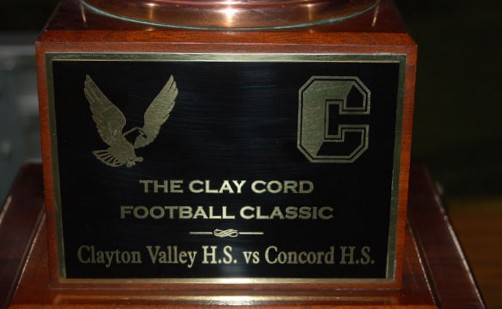 >
The "Claycord Cup" will remain in the hands of Clayton Valley Charter High School after the CVCHS football team squeaked by Concord High School on Friday night by a score of 49-48.
Concord High School scored a touchdown on 4th and goal with 20 seconds left, which made the score 49-48. They tried for a 2 point conversion, which would have given them the lead and the win, but they failed to score.
Congratulations to the Clayton Valley Charter High School football team.
This is the 5th year the two teams have played for the Claycord Cup. Overall, Concord High School leads 3-2 since the battle began in 2009.
Here are the results:
2009 – 1st Claycord Cup – Concord Wins 56-20
2010 – 2nd Annual Claycord Cup – Concord Wins 50-14
2011 – 3rd Annual Claycord Cup – Concord Wins 42-0
2012 – 4th Annual Claycord Cup – CVCHS Wins 49-6
2013 – 5th Annual Claycord Cup – CVCHS Wins 49-48