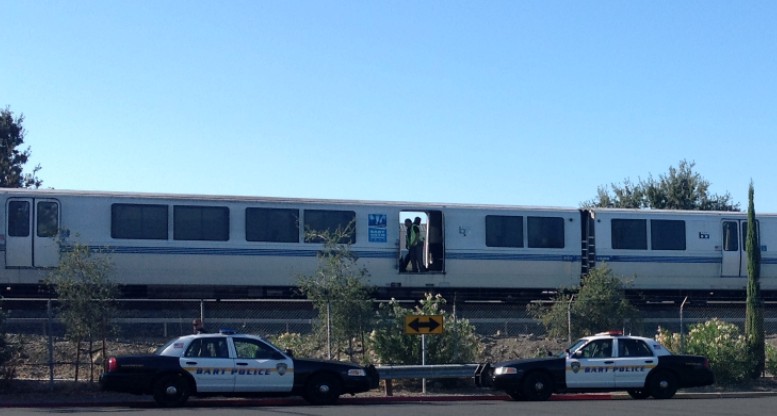 >
Two BART workers were struck and killed by a BART train on the tracks between Walnut Creek and Pleasant Hill this afternoon, according to BART police.
The two BART workers were struck on a stretch of trackway between the Walnut Creek and Pleasant Hill stations a short time before 2 p.m., BART police said.
Information about why the train was running and whether the employees killed are members of the unions currently on strike was not immediately available.
BART trains are not carrying passengers during the strike, but some managers have been trained to operate the trains for maintenance purposes in the event of a strike.
Click on the photo above, or click HERE to listen to the dispatch audio calling for a "BART Emergency".
UPDATE, 4:12pm: The following statement is from BART:
"BART officials are responding to the scene of a fatal accident involving two employees who were struck by an out-of-service BART train. The names of the deceased are not being released at this time.The accident occurred at approximately 1:53 pm between the Walnut Creek and Pleasant Hill stations, approximately one mile north of the Walnut Creek Station.
The employees were performing track inspections in response to a report of a dip in the track at the time of the accident. The deceased include one BART employee and a contractor. Both people had extensive experience working around moving trains in both the freight train and the rapid transit industry. The procedures involved in track maintenance require one employee to inspect the track and the other to act as a lookout and notify of any oncoming traffic.
The train was on a routine maintenance run with an experienced operator at the controls. At the time of the accident the train was being run in automatic mode under computer control.
No further details are available at the moment. Updates will be provided as they become available."
photo credit: Craig Cannon – for use only on Claycord.com
audio credit: Broadcastify.com