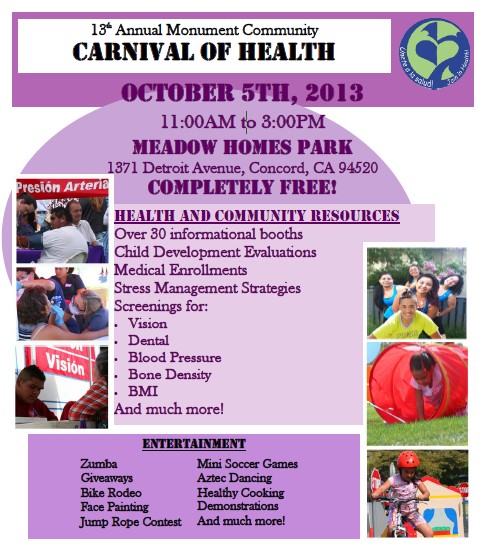 >
The upcoming 13th Annual Monument Community Carnival of Health will be held on Saturday October 5, 2013 from 11:00 am – 3:00 pm.
It will take place at Meadow Homes Park at 1371 Detroit Ave. in Concord. This health fair is a collaborative project of the Monument Community Partnership, Michael Chavez Center, City of Concord, Kaiser Permanente, John Muir Health and La Clinica de La Raza, along with many other important agencies serving the residents of the Monument Community.
The goal is to improve the access and awareness of health and community services available to more than 37,000 residents that live in this community.
The Health Fair offers free health screenings and disseminates relevant educational information to low income Monument Corridor residents who often lack health insurance and access to the medical system. Health screenings include testing for: blood pressure, diabetes, dental, vision, asthma, bone density prostate cancer and hearing. A registered nurse reviews screening results and provides information for follow-up care.
Please view the flyer above for all the information.