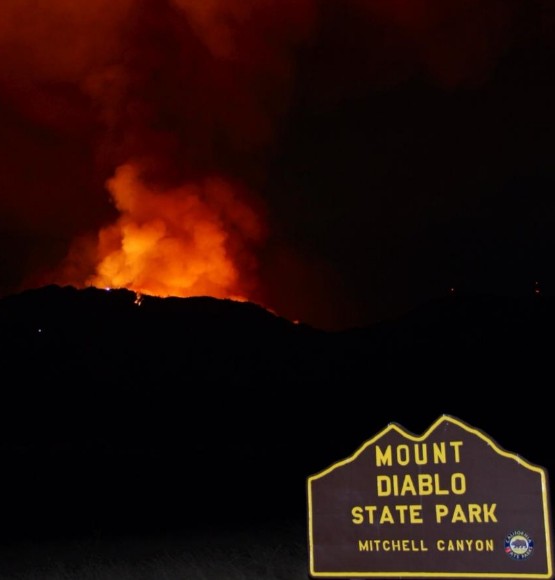 >
Over 700 fire personnel are working to extinguish this blaze on the mountain, which has now burned close to 4,000 acres. The fire remains 20% contained, according to CalFire.
Here are updated numbers on equipment & fire personnel on scene:
Total Fire Personnel: 705
Total Fire Engines: 100
Total Airtankers: 4
Total Helicopters: 11
Total Dozers: 25
Total Water Tenders: 6
ROAD CLOSURE UPDATE: Marsh Creek Road & Morgan Territory are still closed to everybody besides local residents. You must show photo ID if you want to get through. Marsh Creek is closed from Camino Diablo to Regency Road in Clayton. Morgan Territory Road is closed from Marsh Creek Road to Highland Road (Alameda County). Horse trailers are not being allowed on Morgan Territory, but CalFire says they could be allowed in by 2am.
EVACUATION UPDATE: No more evacuations have been ordered. If one is ordered, we will immediately post the information on Claycord.com and on the Claycord.com Facebook page (www.facebook.com/claycord. Currently, 100 homes are threatened.
INJURY UPDATE: Three firefighters have been injured, however, none of the injuries are life-threatening.
OTHER INFORMATION: There was a flare-up due to wind on Morgan Territory tonight. At least one structure was burned, but it appears to be a shed (outbuilding). Horses were in danger, but no horses lost their lives. The flare-up is now under control.
We will be monitoring the fire throughout the night and will provide updates if necessary. CalFire has said unless something happens, their next update will be at 6am.
Be safe.
photo credit: Aaron Baker of Clayton