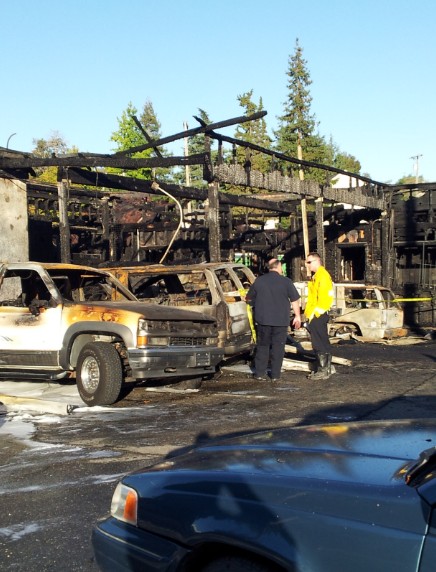 >
Unattended food on a stove led to a two-alarm fire that destroyed a home and damaged several cars at an adjoining auto shop in Martinez early this morning, fire officials said.
Crews were dispatched around 3:15 a.m. to reports of a fire at a car lot and residential building near the intersection of Peach Street and Pacheco Boulevard, Contra Costa County Fire Protection District officials said.
A resident at the home on the property awoke to smell smoke and got outside. A second resident was not at home at the time of the blaze, Fire Inspector George Laing said.
Firefighters battled the blaze for nearly an hour and also had to deal with live electrical wires at the scene, fire officials said.
Crews were eventually able to bring the fire under control a short time after 4 a.m., Laing said.
The fire gutted the home and damaged at least a half-dozen cars, causing an estimated $175,000 in damage, he said.
The American Red Cross was summoned to provide housing assistance for the two residents displaced by the blaze.
Laing said the fire was caused by unattended food on the stove, which is the leading cause of residential fires.
He said there was a working smoke detector in the home, but it is unclear whether the resident heard it before smelling the smoke.
"We strongly encourage people when they're cooking to stay in the location where the cooking is occurring and to ensure you have functional smoke alarms," the fire inspector said.
© 2013 by Bay City News, Inc. — Republication, Rebroadcast or any other Reuse without the express written consent of Bay City News, Inc. is prohibited.
CLAYCORD NOTE: Thanks to Adam for the picture!