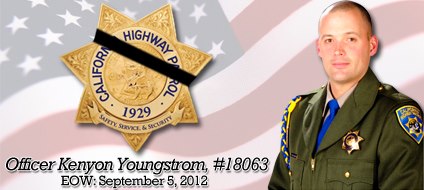 >
Today is the one-year anniversary of the death of California Highway Patrol Officer Kenyon Youngstrom.
Youngstrom, a father of four children, was shot during a traffic stop on I-680 in Alamo on September 4th. He died the next day at John Muir in Walnut Creek.
The suspect was killed by Youngstrom's partner immediately after Youngstrom was shot.
Although the murder was a catastrophic loss for Youngstrom's family, the Officer saved four lives with his donated organs, according to the CHP.
Below is the list of the donated organs and who received them:
Heart: A 50-year-old father of four from Southern California.
Liver: A 63-year-old California woman.
Kidney: A 29-year-old mother who was on the waiting list for three years.
Kidney: A 52-year-old California woman who was waiting a decade for a transplant.
Rest in Peace, Officer Youngstrom.