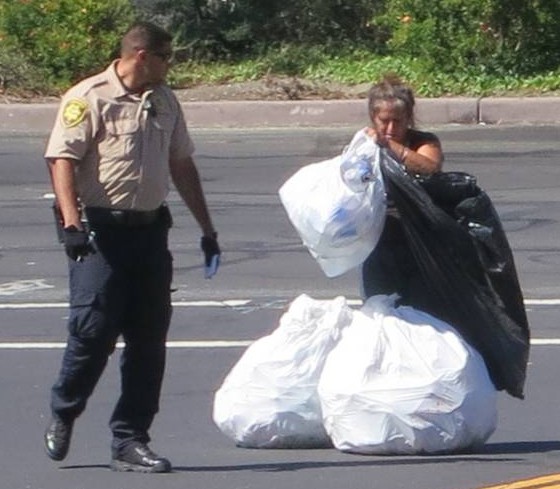 >
The City of Concord is asking residents to help stop the theft of recyclables.
The following information is from the City of Concord:
Taking recyclable material from a trash receptacle is illegal. In addition to the nuisance factor caused by thieves rummaging through residential recycling containers, recycling thefts raise garbage collection rates and prevent the City from achieving its state-mandated recycling goals. Concord Police report that opportunistic crimes are also taking place on properties targeted by recycling thieves. Concord Disposal Services, the City's garbage collection vendor, is partnering with the City to reduce the thefts.
"Many residents may not be aware that the thieves are very well organized," says Corporal Patrick Murray of the Concord Police Department's Code Enforcement Unit. "They have designated territories so as not to run afoul of each other. They use different colored plastic bags to identify whose illegal haul belongs to whom. Profits range from a couple hundred to a couple thousand dollars per week, per person."
Recycling Theft Prevention Specialist Isidro Llanos, whose position is funded by Concord Disposal Services and has been working to reduce thefts for the last several months, says "Many illegal recyclers come to Concord from other cities. One man contacted a few weeks ago admitted that he rides the bus to Concord from Pittsburg, fills his bags with aluminum cans and plastic bottles, then cashes in at the local recycling center before riding the bus back home."
Bottles and cans are not the only recycling theft causing concern. Thieves that target businesses are taking large quantities of cardboard from dumpsters provided by Concord Disposal specifically for that purpose. If an employee leaves a dumpster unlocked, thieves have easy access to the cardboard. These thefts also result in higher garbage rates.
Llanos reports that in some cases, high volume merchants compress their cardboard into large bails and leave the bails on their loading docks for pickup. Thieves have been ingenious in conceiving ways to move the half-ton bails onto their pickup trucks. Each pickup truck load of flat cardboard can fetch up to several hundred dollars at a recycling center.
In addition to his enforcement efforts, Llanos also provides community outreach and education. Business managers and homeowner groups interested in having Llanos make a presentation should contact him at (925) 671-3130.
There are several ways to report recycling theft: If the theft is in progress, call the Police Department at 671-3220 or Concord Disposal Service at 682-9113; Report thefts online through the CDS website www.concorddisposal.com or call the CDS recycling theft hotline at (925) 671-3100.
If possible, provide the following information: license plate number if a vehicle is involved, description of the vehicle and person(s), and time the theft occurred.
For more information, contact Cpl. Patrick Murray, (925) 671-3280.
photo credit: "Chaz"