>
Traffic Jammin' with Janis Mara – Every Monday at 2pm on Claycord.com.
TRAFFIC JAMMER: Greetings, all! This Claycord.com column is for everyone who negotiates the highways and public transit of the Bay Area. It runs every Monday at 2pm and answers your commuting and transportation questions.
Email your questions to trafficjammin@claycord.com.
TRAFFIC JAMMER: We begin this week with a photo sent to us by a concerned Claycordian: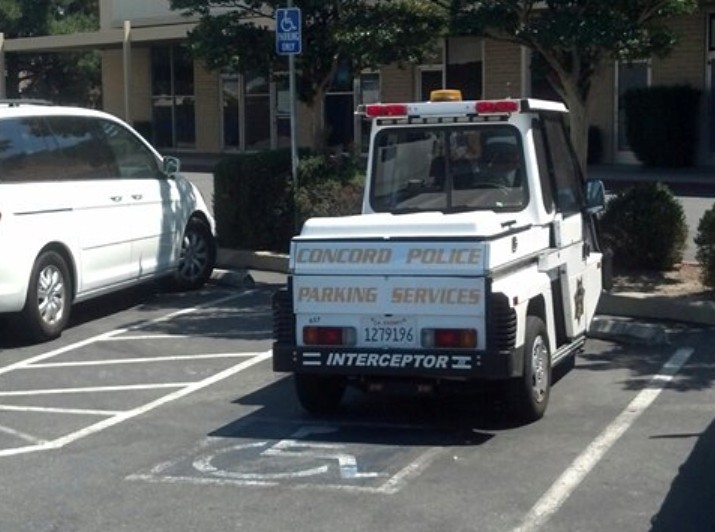 >
COMMUTER:
This was in front of Luigi's Deli on Clayton Road on a recent Sunday around noon.
–Alert Observer
TRAFFIC JAMMER: This photo was initially sent to our beloved Mayor, who forwarded it to the Jammer. Just to be sure, I checked with Concord police Sgt. John Nunes, and as the Mayor and I suspected, here's the scoop: While this photo looks damning, and AO was right to send it in, the meter maid is not parked illegally.
In order for a parking spot to be a true disabled spot, it is necessary for there to be both a blue disabled symbol painted on the asphalt AND a sign. This spot has no sign and hence is OK for all Claycordians to park in.
COMMUTER: Driving on Galindo from Clayton Way to Concord Boulevard and wanting to turn left onto Concord Boulevard. If you get a red on Clayton you can see the green on Concord to turn left. Clayton turns green and by the time you get there Concord turns red. WTH. You can go further to Willow Pass to turn left and this has the shorter left turn lane which backs up to the traffic lane for those who want to go straight. Why is it that traffic can't flow from the green on Clayton to the left turn on Concord Blvd with two left turn lanes?
–Why Oh Why?
COMMUTER: (Responding to WOW) You describe the problem quite accurately. Meanwhile, what is happening to those of us who have waited first in line at the red light on Concord Boulevard westbound at the Clayton Road intersection is this: We have waited and we FINALLY get a green light.
The next (and nearby) light at Concord Boulevard and East Street turns green for us at almost the same exact time … but the intervening block is filled with all YOU GUYS who have just turned left off Clayton Road, so we can't even go on our green light until enough of you have moved out of the way. This light-timing problem has not always been there……maybe only in the last month….is that your recollection as well? Anyway, Janis, please would you fling your body across the tracks for us yet again and see whether you can work miracles?
–Antler
TRAFFIC JAMMER: Rejoice, Claycordians! An excited Ray Kuzbari, Traffic Engineer for the City of Concord, called the Jammer last week with the news:
"Recently Claycord got complaints about the intersection of Concord Boulevard and Clayton Way. Cars turning left on Clayton Way had a hard time because it gets the green light simultaneously for both directions," Kuzbari said.
"We just made a signal operation change to make each approach of Clayton Way get the green light separately. Each approach, if they want to turn left, they have an exclusive arrow to turn left. That conflict is going to go away between cars turning left in in both directions simultaneously.
"We actually spent a few months reviewing this during the winter and spring months during the morning traffic with the school traffic commute. We did a very comprehensive review and decided to make this change."
Claycordians, be sure to let the Jammer know how it's going now!
COMMUTER: If you don't have license plates on your car, does this give the police the right to pull you over?
–Wondering
TRAFFIC JAMMER: This is a question that surfaces every so often. Yes, the police can stop you for not having license plates. Under the law, drivers are supposed to display them, and you can get a ticket for not having them.
Note that I said, "them." You need to have both plates, front and back, Wondering.
TRAFFIC JAMMER: That's it for this week – see you next Monday. Be sure to cruise by Claycord.com at 2pm for more traffic intelligence. Remember, whether you drive, walk, bike or hop Amtrak, BART or AC Transit, Traffic Jammer Janis Mara is here to answer your questions.
Send your questions to trafficjammin@claycord.com.