>
Traffic Jammin' with Janis Mara – Every Monday at 2pm on Claycord.com.
TRAFFIC JAMMER: Greetings, all! This Claycord.com column is for everyone who negotiates the highways and public transit of the Bay Area. It runs every Monday at 2pm and answers your commuting and transportation questions.
Email your questions to trafficjammin@claycord.com.
COMMUTER:  I noticed that the traffic light at Willow Pass and Parkside (in Concord) was flashing red all day Sunday due to some malfunction. This dramatically reduced the amount of speeding and hazardous driving that is so common on Willow Pass when it isn't busy. I wonder if it would make sense to set all the lights on Willow Pass east of downtown to flash red except during commute hours.
–Winston
TRAFFIC JAMMER: The Jammer can see some sense in this, Winston, but when she ran it by Concord Traffic Czar Ray Kuzbari, Champion of Drivers and Pedestrians, he shot it down immediately.
"It's not safe for pedestrians," Kuzbari said. "We have crosswalks at these signal intersections. Pedestrians can push the button to make the light change so they can cross safely on a red light. It would not be safe for pedestrians to cross if the lights were flashing red."
COMMUTER:  I am being driven to the brink of madness by drivers who try to merge onto the freeway at 40 mph. I like to drive in the right-hand lane so I can go 55 and conserve gas, as I'm retired and on a fixed income.
This also means that over and over I am forced to slow down or change lanes to avoid the slow-moving mergers. The part that drives me into a state of near-road rage is that they then floor it and zoom up to 65 or more once they are actually on the freeway.  Why don't they do that as they merge?
–Road Rage, Here We Come
TRAFFIC JAMMER: RRHWC, the Jammer and all Claycordians feel your pain. If you are beginning to be aggravated to the point of road rage, perhaps it might be best to drive one lane over so the slow mergers don't aggravate you, at least for a while.
The Jammer guesses that it is timidity that causes drivers to enter the freeway at a slow speed. (Claycordians, what do you think?) Regardless, however, RRHWC, you are 100 percent correct. To quote the California Driver's Handbook, "Enter the freeway at or near the speed of traffic." Driving 40 mph during a merge is downright dangerous. As the manual points out, freeway traffic has the right of way. This actually seems weird to the Jammer, since it's the cars entering the freeway that are most at risk, but nonetheless, that's how it is.
More tips on merging correctly: After getting your speed up to that of the cars already on the freeway, as you prepare to slide into traffic, check your rear view mirror and your side view mirror, and crank your head around to look over your shoulder.
COMMUTER: On Interstate 80 northbound as you drive into Emeryville and then Berkeley, it seems like the far right lane keeps disappearing and you keep having to merge into traffic. When two lanes merge into one — say the far right lane merges into the lane next to it — who has the right of way?
–Disappearing
TRAFFIC JAMMER: Disappearing, this question seems to come up regularly for some reason. The last time it was asked with regard to city streets. Regardless, the common sense answer is that the driver who is farther ahead has the right of way.
The way most experienced commuters handle these merging situations is that first the car in one lane merges, then the car in the other lane, alternating back and forth.
TRAFFIC JAMMER: And now, Beloved Claycordians, because the Jammer knows you and our beloved men and women in uniform have a sense of humor, she cannot resist sharing this information with you. A website called UniformDating.com sent the Jammer a press release informing her that in a survey of 1,000 people, the California Highway Patrol's uniforms were dated the No. 1 most stylish in the land.
"We'd hazard a guess that it has something to do with the shades of azure blue seen on their ties, badge and the stripes running down their pants," the press release breathlessly opined. Texas, New York, Florida and Massachusetts were the four runners-up, in that order. So, fellow Californians, another reason to be proud! (The Jammer does not in any way endorse UniformDating.com, by the way. She just found the award amusing.)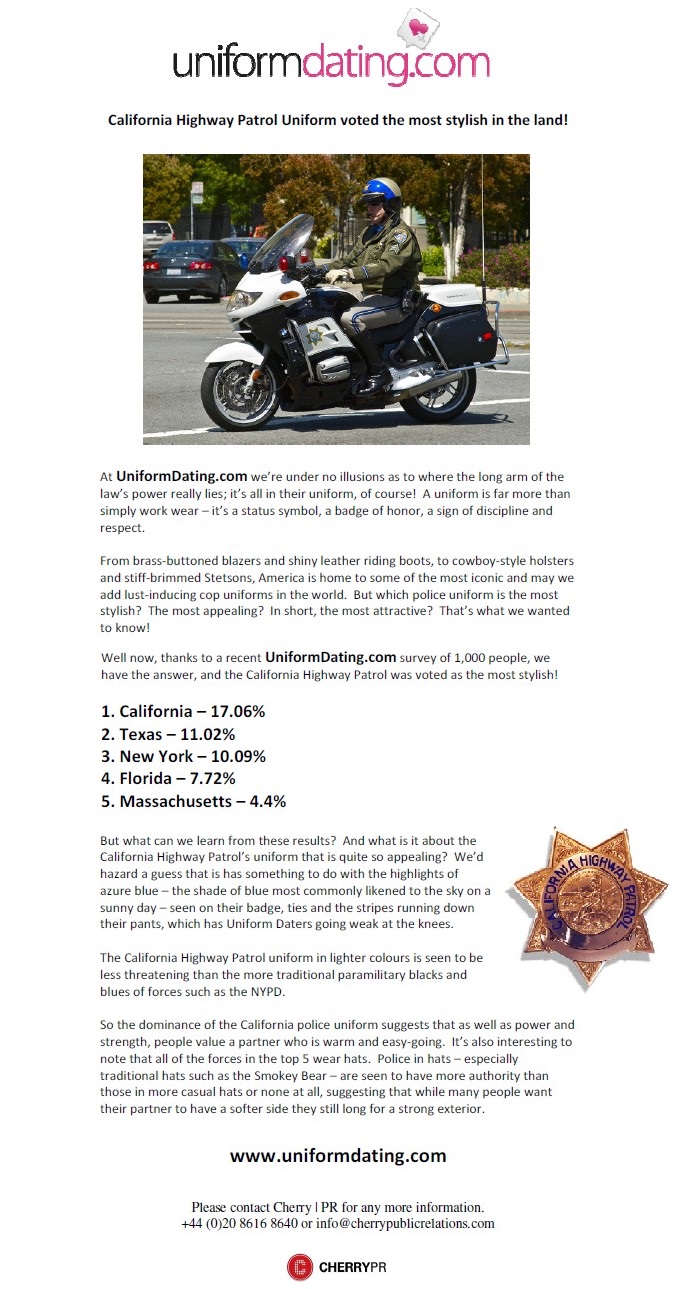 >
TRAFFIC JAMMER: That's it for this week – see you next Monday. Be sure to cruise by Claycord.com at 2pm for more traffic intelligence. Remember, whether you drive, walk, bike or hop Amtrak, BART or AC Transit, Traffic Jammer Janis Mara is here to answer your questions.
Send your questions to trafficjammin@claycord.com.