>
Traffic Jammin' with Janis Mara – Every Monday at 2pm on Claycord.com.
TRAFFIC JAMMER: Greetings, all! This Claycord.com column is for everyone who negotiates the highways and public transit of the Bay Area. It runs every Monday at 2pm and answers your commuting and transportation questions.
Email your questions to trafficjammin@claycord.com.
COMMUTER:  I live in North Concord just above the North Concord BART station and witness many moving violations daily. As you drive up Panoramic from the BART station there are a total of three "No U-turn" signs, yet people still do it at the intersection of Panoramic and St. George! Most, I suspect, are doing it to bypass the traffic on Highway 4 going up the hill to Bay Point.
Is there anything I can do to increase the patrol/enforcement of these signs, as it poses a safety issue to not only other drives but the numerous pedestrians who walk in the area from BART?
–Victor
TRAFFIC JAMMER: Yes, indeed, this does sound like an accident waiting to happen, Victor, and the Jammer is glad you took the time to write in about it.
Ray Kuzbari, Concord's ever-responsive Traffic Czar, knew right away what you were talking about when the Jammer relayed your concerns to him.
"Cars will get off eastbound Highway 4 and travel down Port Chicago Highway to Olivera Road and get back on the freeway from Willow Pass," Kuzbari said. "They think they are saving time, but they are actually losing time." As you know, Victor, it happens during rush hour as drivers seek to make an end run around congestion.
"I will contact the police department and let them know the illegal U-turns are still being made between 4:30 and 7 p.m.," Kuzbari said. "If they send a cruiser out and watch for an hour or so and ticket illegal U-turns, maybe people will learn their lesson and stop doing it."
Hooray for Ray! Be sure to keep an eye on the situation and let the Jammer know how it goes, Victor.
COMMUTER: Yo Jamma,
There is a traffic sign of some kind that is completely obscured by a rogue palm tree on Ayers road, adjacent to the Pixie Playschool (almost at the corner of Concord   Boulevard).  It has obviously been neglected for years, since that palm didn't grow overnight.  I keep meaning to take a photo and send it to someone, but since you seem to get quick action from smart folks, it probably isn't necessary.  I can't believe it hasn't been reported by anyone else. Maybe you can hold a contest to see who can guess what kind of sign it is.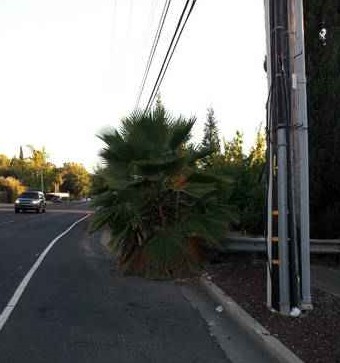 >
Thanks for writing this great column!
–DogMom
TRAFFIC JAMMER: Aw, DogMom, thanks so much for your kind words! Also, thanks for sending along a photo so we can see how totally obscured this sign is. Yikes! The Jammer shared the information with Ray Kuzbari and he is on the case. Keep us informed, DogMom. It's likely the problem will be solved quickly.
TRAFFIC JAMMER: Beloved Claycordians, you may have heard that some prankster is installing fake signs on Bay Area highways reading, "Speed Enforced by Drones."
Here's a link to an article about it.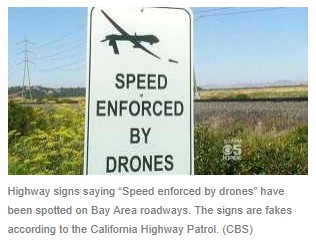 >
Have any of you seen the signs anywhere? Let me know!
COMMUTER: I have been reviewing the nitty-gritty details in the DMV Driver's Manual so as to be ready for my written driver's test appointment.
Last night's puzzler was that bicycle riders are required by law to wear a helmet unless they are more than 18 years old — something which leaves me more than a little aghast, as I have been thinking that one's head can be just as smushed when he is over 18.
Jammin' Janis, what say you regarding the DMV's reasoning on this law?
–Antler
TRAFFIC JAMMER: Thank you, Antler, this is a great question. The Jammer's unequivocal opinion is that adults should wear helmets. A friend of the Jammer was charged by dogs, knocked off her bike and sustained brain damage. She has managed to make a full recovery, but it took years. If she hadn't been wearing a helmet, she probably would have died. (She fell on asphalt.)
Here is a detailed response from Robert Prinz, education coordinator, East Bay Bicycle Coalition. (Abbreviated version: The coalition encourages people to wear helmets but feels avoiding crashes is the greater concern.)
The topic of bike helmets for adults is a very touchy one, with lots of opinions on both sides, so while we encourage their use among adults we prefer to take a hands-off approach to the issue and let people decide for themselves whether to wear one or not. I believe the concept behind the youth bicycle helmet requirement is that people under the age of 18 are typically less responsible for their own behavior than adults and therefore more likely to be involved in a collision, and the statistics on crash incidence by age bear this out.
Laws mandating the use of bike helmets by adults have been proven in places like Australia to discourage many people from riding altogether, and having fewer cyclists on the streets puts the rest of the ridership more at risk simply by being less expected. Here in the Bay Area the number of cyclists on our streets has been going up much faster than the number of bike crashes, which means that the "safety in numbers" effect is significant.
While a bike helmet may reduce the severity of a head injury, it does nothing to prevent a crash or mitigate other life-threatening injuries. Since the opportunities to affect a person's biking behavior are few, we concentrate on ways to prevent crashes, as opposed to mitigating them. We are also against the common assertion that a cyclist in a collision without a helmet was being negligent and partially at fault for their own injuries.
For helmet fit we use the "eyes, ears, mouth" method to teach youth and adults how to adjust helmets.
We encourage cyclists to never purchase a used one or re-use a helmet that has been involved in a crash. Also, only wear a helmet with a CPSC certification.
TRAFFIC JAMMER: That's it for this week – see you next Monday. Be sure to cruise by Claycord.com at 2pm for more traffic intelligence. Remember, whether you drive, walk, bike or hop Amtrak, BART or AC Transit, Traffic Jammer Janis Mara is here to answer your questions.
Send your questions to trafficjammin@claycord.com.