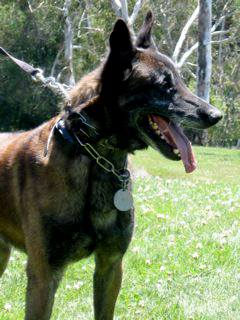 >
Sad news tonight.
The following information is from the Concord Police K9 Association:
It is with great sadness that the Concord Police K9 Association announces the passing of one of our retired K9's.
On Sunday May 12th 2013, K9 Officer Switzer was forced to make the very difficult decision to have his retired CPD K9 "Rosco" laid to rest. Rosco was 13 years old.
Rosco began his work here at Concord PD in March of 2003. He continued as Officer Switzer's partner until the spring of 2010 when he had to be retired due to recurring seizures. When Rosco was retired he lived the remainder of his life as a beloved member of Officer Switzer's family.
Officer Switzer and K9 Rosco proved to be a great team over the years and an excellent asset to our department. His fetish for stuffed animals aside, Rosco excelled in drug detection and was very good in protection/apprehension work. During his 9 years on the streets Rosco was responsible for arresting numerous suspects and seizing large quantities of drugs and drug associated currency.
We thank K9 Rosco for the service he provided to our agency and the citizens of our community. He will be missed but never forgotten.
The Concord Police K9 Association.