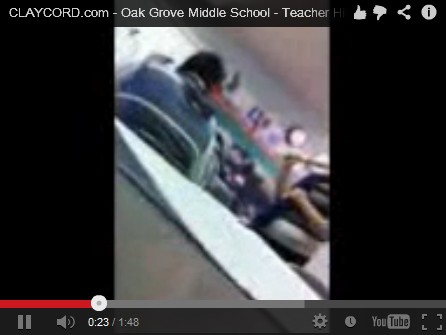 >
An Oak Grove Middle School teacher in Concord is being investigated for allegedly hitting students with an unknown object during class.
The incident took place before spring break, and video was recently sent to www.Claycord.com & www.BayAreaNewsTalk.com showing the teacher allegedly hitting at least one student, and apparently threatening others with a long, unknown object. At one point in the video, one student says what sounds like "ahhh, ahhh, there is no excuse" after allegedly being hit with the object.
Mount Diablo Unified School District Superintendent Steven Lawrence says "Since all personnel matters are confidential, I cannot share specific details of any personnel investigations. However, we are aware of the concern and are taking all necessary steps to ensure our students have a safe and productive learning environment."
Lawrence wouldn't confirm the teacher's name, so for now, we are keeping it private until it is officially released.
We're being told she was at school on Monday of this week, but was not at school on Tuesday. It is unknown if she is teaching today.
UPDATE: Superintendent Steven Lawrence has confirmed that the teacher is on administrative leave pending the investigation.