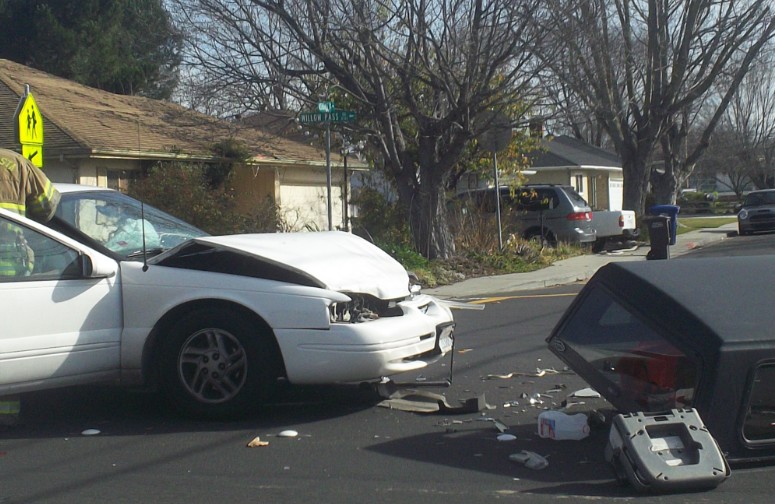 >
A Tuesday afternoon crash on Willow Pass Road sent a few people to the hospital with minor injuries, and one neighbor in the area of Monte Gardens Elementary says she's seen enough, she's sick & tired of drivers who don't pay attention to the road!
On Tuesday, a small pick up truck with a camper shell was in the left lane on Willow Pass Rd. coming from the Pittsburg direction waiting to turn left onto Ashdale. That is the street that goes down to Monte Gardens Elementary School. It is just about a block past Landana. A white car with two male occupants hit the rear end of the small pick up with great force. It sent the pick-up through the intersection and the camper shell and the contents in the bed of the truck stayed behind coming off the truck and landing right in front of the white car. It most likely hit the car and fell off.
A police officer was at the scene just a few feet away out of his car talking to a resident about a different matter when this happened. So he was on the scene within seconds. I heard the collision from two blocks away and walked over. The resident was the one who told me about himself and the officer basically witnessing this accident. The occupants of the pick-up were a young girl, say 18 to early 20s and a toddler to small kindergartner size child in a car seat in a small rear seat behind the front passenger seat. The driver was out of the vehicle walking and talking with the officers and medics. The young child was put on a stretcher and taken away in am ambulance, most likely as a precaution. She was not crying and appeared fine and they lifted her out of the car. But seemed too young to be able to clearly discuss symptoms with medics.
I want to document just how dangerous this street is for both left turners and more importantly, for pedestrians trying to cross Willow Pass Rd. For six years I walked my child to Monte Gardens and crossed in that very same cross walk. DRIVERS DO NOT STOP! A big bright yellow crosswalk does not matter. A yellow road sign with School Crossing, does not help. That pick-up could have been stopped for school children crossing. And would have been shoved right into them if that was the case.
For six years cars rushed right through as I crossed my child, practically running over our toes! And I have to tell you, it was people of all color, white, black, brown, or what ever, and people of all ages. Young kids, 30s, 40s, 50s, 80s. All ages, all sexes, didn't matter. You take your life in your hands when crossing Willow Pass Rd. Down at San Vincente Dr. a block away they installed a post with a button. It makes a yellow light flash. The sign for the drivers right at the flashing light says "PREPARE TO STOP". A loud speaker plays very loudly for about 30 seconds for the pedestrian to hear…. "CAUTION, CARS MAY NOT STOP" Ya think? This message needs to say Cars WILL NOT STOP. And as for the sign to the vehicles, Prepare to Stop. When are they supposed to prepare? Shouldn't a sign warning you to prepare come maybe 500 ft. before the time they need to be stopped by? I'm not a rocket scientist, but I don't think it needs one to figure out that a 4,000 lb. car cannot stop on a dime. Over 30 years ago a young girl was hit and killed in this intersection.
Everyone please slow down on Willow Pass Rd. It is a thoroughfare right through our residential neighborhood. Drive the speed limit! Pay attention. I have to wonder if this driver was texting. He barely braked before running into the back end of a stopped vehicle waiting to turn left. It was about 12:30 PM, so although the sun was low, it was not blinding like it is at about 4:30 PM.
Concerned Monte Gardens Tract Neighbor
If we all slowed down and learned to pay attention to the road, we wouldn't have any collisions.
Thanks for the note, Concerned Monte Gardens Tract Neighbor!