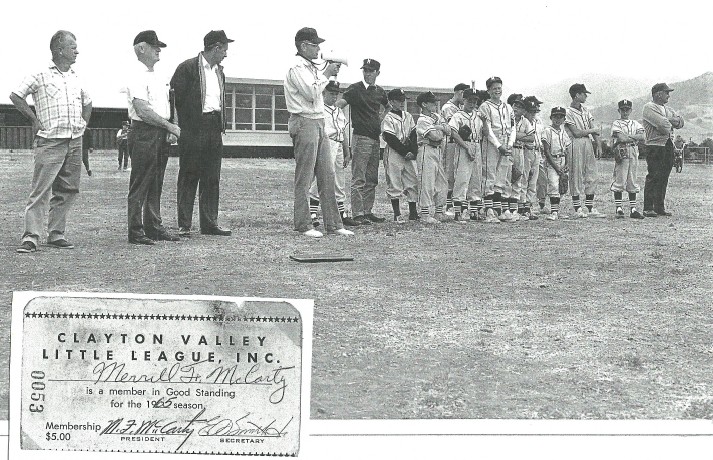 >
This picture is from Clayton Valley Little League, who also wrote the following message to Claycord.com….
Please find a photo of CVLL Opening DAY (1965), along with CVLL Founder Merrill "Mack" McCarty's official Little League Membership card from 1965.
The CVLL Board of Directors has been very busy preparing for the 2013 season and our tryouts begin this weekend. Currently we have 466 children signed up for baseball and 119 for softball. That comes to about 40 teams in 12 divisions of Baseball/Softball.
Our opening day event will take place on March 24th, 2013 at CVCHS. We will begin with a rally in the gymnasium, followed by team pictures and all players will participate in our Annual Hit-A-Thon Fundraiser.
CVLL was formed in 1964 and was born from a promise McCarty made to his sons Tom and Mike before they moved in the 1960's from Michigan to Concord. McCarty (holding the bullhorn in the photo) passed in 2004 during the 40th anniversary of CVLL and his wife Joyce remains in Concord. With this being our 50th season, we will be honoring the founder of CVLL,Merrill "Mack" McCarty and his family
We are proud of our leagues heritage and have heard so many stories of how CVLL has been a source of fond memories for the youth of Claycord. We look forward to sharing the story of the beginnings of our league in a detailed expose which is being planned next month.
CVLL would like to reach out to its current and past players for any photos they would like to share which will be part of a video for the league.
Please email photos, stories, documents & any history to: CVLLhistory@gmail.com
We'll keep you posted on the expose.
If there are any businesses that would like to sponsor CVLL, we have many opportunities available including signage ideas, Opening Day Participation and Hit-A-Thon sponsorship ideas. Feel free to connect with us via our website.
ABOUT THE CLAYCORD ONLINE MUSEUM: The Claycord Online Museum is made up of historical photos, documents & anything else that has to do with the history of our area.
If you have any old photos or items that you'd like to place in the Claycord Online Museum, just scan or take a photo of them, and send them to the following address: news@claycord.com. It doesn't matter what it is, even if it's just an old photo of your house, a scan of an old advertisement or an artifact that you'd like us to see, send it in and we'll put it online!
Click on the tag below titled "Claycord Online Museum" to view other items.