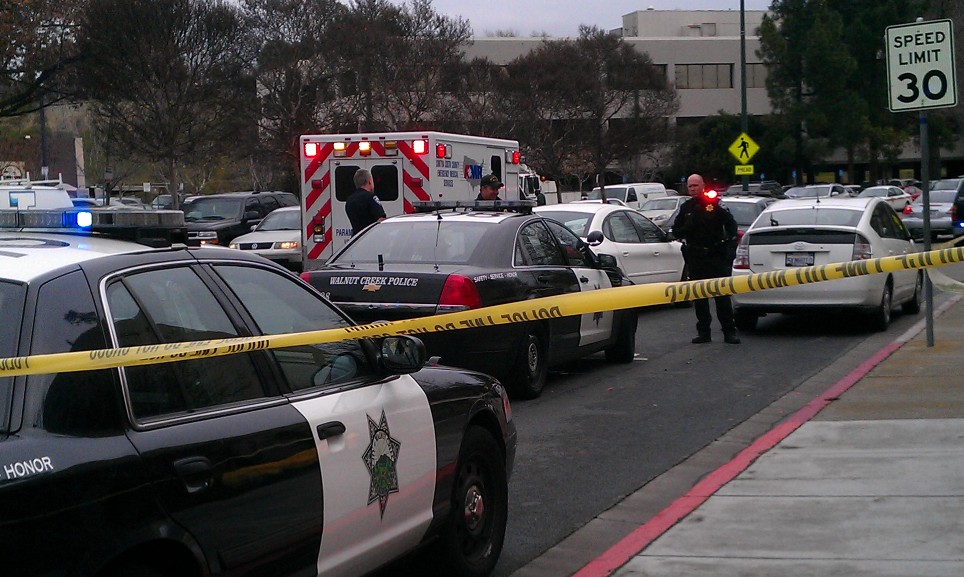 >
The Walnut Creek Police are investigating an apparent suicide at Nordstrom in Broadway Plaza.
We're hearing the person possibly jumped from the roof, or a balcony on the building. One witness said there is blood all over and the alleged jumper's body is partially in the bushes.
The Walnut Creek Police are asking people to avoid southbound Broadway at Cypress Street, and also Duncan street near Broadway/Mt. Diablo Blvd. for the next hour while they investigate.
Thanks to Tiffany for the picture.
UPDATE, 4:15pm: All roads have been reopened.
UPDATE, 5:20pm: WCPD confirms it's a suicide. Here's the update:
On 1/24/13 at 1:51pm, the Walnut Creek Police Department received a report that a subject had jumped off the roof at Broadway Plaza, landing near the sidewalk of South Broadway and Mt Diablo Blvd.
The subject was a female in her late 20's and was pronounced deceased at the scene. Witnesses and the subsequent investigation revealed the subject was by herself when she intentionally jumped off the third floor balcony.
The subject's identity is being withheld pending notification by the CCC Coroner's office. The suicide resulted in nearby roads being closed. All roads were reopened at 1513 hours.