If you haven't heard, our friend Mike "Radar" Dunn passed away this week, he was 50 (at least that's what he told me, haha, I think he was really 59).
We're not sure exactly when he died, but it was possibly on Christmas, because nobody heard from him on Christmas. He wasn't found until the morning after Christmas, which leads a lot of us to believe that he went to bed, and passed away peacefully in his sleep sometime on the 25th.
"Radar" was a life-long resident of Contra Costa County. He grew up in Concord, and graduated from Clayton Valley High School. He attended Chico State, where he majored in communications. He came back to Contra Costa County and worked for the Contra Costa Times/Concord Transcript for many years.
"Radar" came to Claycord.com on Christmas Day in 2007. As I'm writing this, I have chills & tears, because I just realized his first email to me was on December 25, 2007, meaning he passed away exactly five years to the day from when he first came into our lives.
Here's what his first email to me said….
Hi my name is Mike Dunn AKA Radar I post to the blog sometimes. I have some photos that I took of BART opening day in 1972 while I was at DVC as a student photographer. I think I have other photos of the Concord/Clayton area will try to find them and get back to you. I also have a digital camera will keep it with me when I can. Thanks for a great resource!
Mike
Here is the first photo "Radar" sent to Claycord, which shows the first passengers entering the gates at Concord BART. He took this on opening day in the early 1970's. He had a deep passion for history, and saved many of the pictures he took when he was younger.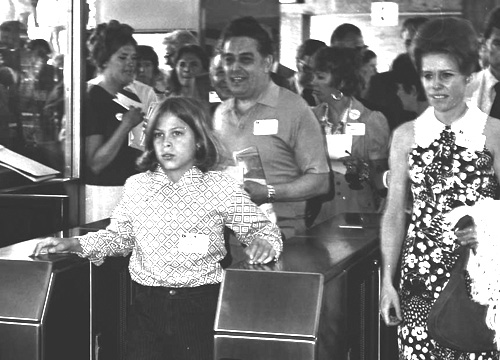 >
"Radar" was a good guy. He was so excited when I started posting his pictures on Claycord, and throughout the years, he would always be so happy when the television news stations or newspapers would use his photography, and credit it "Radar – Claycord.com". He was proud of me, and what he helped create with Claycord.com. I was proud of him, too. We were a great team, he once called us the Batman & Robin of the blogging World.
He had such a passion for what he did and didn't think of what he did as a job, but more of a hobby. He almost cried when I gave him a press pass and a set of Claycord.com business cards with his name on them, and also when I told him I would buy him a new police scanner. He was a simple man. He lived in an apartment, drove a small car, didn't buy much for himself and made the best of what he had. He loved life, and was passionate about his friends & family.
"Radar" and I have had thousands of conversations, and got together to just hang out on several occasions. He made A LOT of friends through Claycord, and as far as I know, all of them remained his friends up until his death.
Early in 2012, he came out with the news that he had stage-4 lung cancer, which not only broke my heart, but the hearts of many. He never wanted to ask for help. I offered, as did many of his friends, but he always said "no". Finally, in May, he said he was running out of money and couldn't pay his insurance, so that's when all his friends went into action, and I posted a quick note on Claycord asking for donations to help out a fellow Claycordian.
Little did we all know that we would raise over $15,000 for our friend. He was absolutely blown away. He kept hugging me when I saw him, just saying "thank you", and he cried. I think deep down, he knew he didn't have long to live, but he would never admit it, and would never accept that fact. He kept fighting until the end, and thanks to you, he was able to live life without the worry of whether or not he would have enough money for his next meal, or his next treatment for this unforgiving disease.
He was rushed to the hospital in an ambulance on Thursday, December 20, 2012 while taking pictures at Clayton Valley Charter High School. Originally, it was believed that he had pneumonia, but he was checked out and given the "ok" to go home. He didn't make it another week, the cancer had beaten his body, but the cancer did not beat his mind. In Mike's mind, he was a healthy 20 year old with a camera and a ton of energy, and he proved that up until the end.
I knew the man known as "Radar" very well, and I know he loved each and every one of you. He considered many of you his family, and would have bent over backwards to help anybody, even the people he didn't know. On Christmas, we lost a friend, but Heaven gained a wonderful photographer.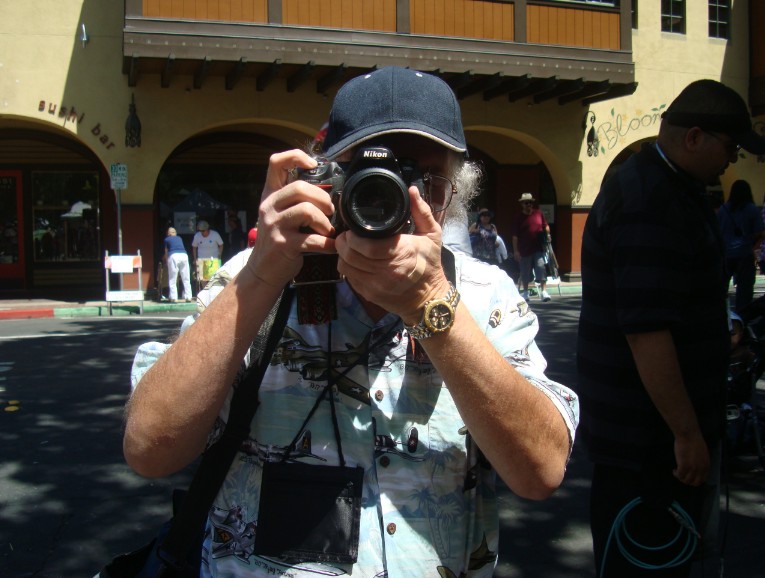 >
I spent many hours these past few days putting together the slideshow at the top. Please take a few minutes out of your day to enjoy the last five years through Radar's eyes. The pictures at the top are only a few of the thousands that he took, but they're some of the best.
The last picture was taken by me. It shows his car at Clayton Valley Charter High School, the site of his final assignment for the Clayton Pioneer.
Next year, I plan to give away the first ever Mike "Radar" Dunn Photography Award, which will be given to the person who submits the best photo each and every year on Claycord.com. He might be physically gone from our lives, but his memory will never be forgotten.
Rest easy, Radar. You are very well loved.
-Mayor
Photo of Radar: Courtesy of Ann Notarangelo (thank you, Ann).