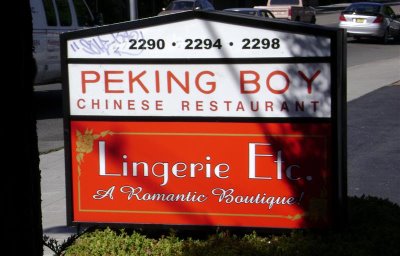 >
This place is a hotbed for armed robberies!
"Lingerie, Etc." on Monument Boulevard in Pleasant Hill was robbed at about 8pm on Tuesday night, according to the Pleasant Hill Police.
Police released the following information on the incident and the suspect, who was armed with a gun:
The lone suspect entered the store and pointed a shotgun at the employee, demanding money. The suspect reached into the register and removed an unknown amount of cash. The suspect quickly fled out of the front of the store and possibly south toward Lisa Lane. A police canine from the Concord Police Department was called in and a track for the suspect was initiated. The suspect was not located during the search. Video surveillance of the incident will be collected as soon as it is ready.
SUSPECT(S): Hispanic male, mid – 20's, 5'8" to 5'10" tall, thin build wearing a grey hooded sweatshirt, black pants, and a bandana covering his face.
Anyone with information about this crime is encouraged to call the Pleasant Hill Police Department Investigations Division at 925-288-4630.