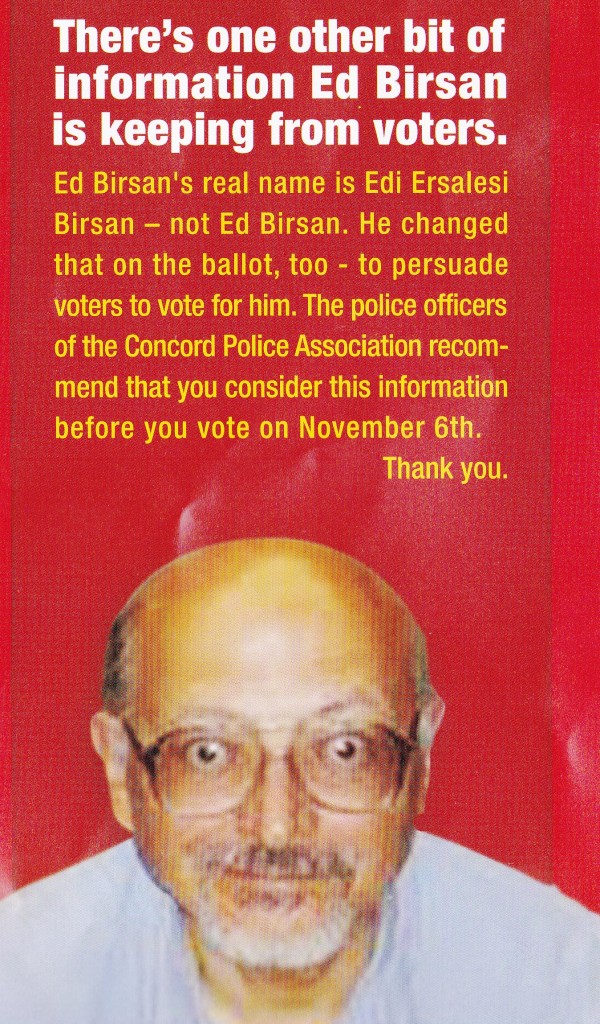 >
It's the talk of the town right now, and if you've read your snail mail today, then we're sure you've seen it.
Here's a little background. Concord resident Ed Birsan is running for one of the two open seats on the Concord City Council, and he's not being endorsed by the Concord Police Officers Association (POA).
The POA sent out a mailer saying Birsan, who claims to be a Concord small business owner, actually registered his business in San Francisco, and not Concord. They also say he is misleading the public by listing his name on the ballot as "Ed Birsan", when his full name is Edi Ersalesi Birsan.
Ed Birsan, who also goes by his real name, Edi, declined to comment, but did email his supporters, saying the San Francisco address listed in the flyer is where his treasurer lives. He also stated that he does in fact have a Concord Business License, and provided a copy to Claycord.com (pictured below). Birsan also lives in Concord, according to his website, www.EdiBirsan.com, and his business license.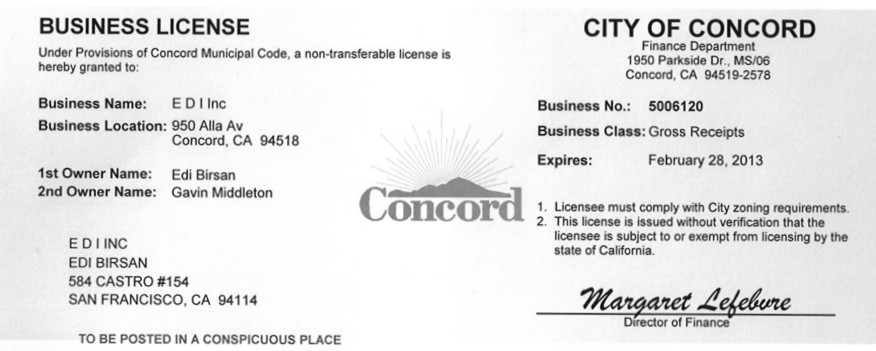 >
The Concord POA was contacted regarding the controversial mailer, which is also the first real "hit piece" of the local election.
The POA issued the following statement to Claycord.com.
The important issue for voters to know is this: Ed Birsan, Edi Birsan, Edi Ersalesi Birsan or whomever he is calling himself at the time, is not what he says he is. He purports to be a 'Concord Business Owner' on the election ballot, which is misleading to the voters. Mr. Birsan's business is officially registered with the Secretary of State at 584 Castro Street in San Francisco.
See below from the Secretary of State's website online as viewed today, October 26, 2012:
Entity Name: E.D.I., INC.
Entity Number: C2170949
Date Filed: 07/22/1999
Status: ACTIVE
Jurisdiction: CALIFORNIA
Entity Address: 584 CASTRO ST #514
Entity City, State, Zip: SAN FRANCISCO CA 94114
Birsan says he plans to send out a mailer next week responding to the claim by the Concord POA.
The anti-Birsan mailer states it was not authorized by a candidate or a committee controlled by a candidate. So in other words, the candidates who signed the fair campaign pledge act earlier this year did not approve this mailer.