Mt. Diablo Unified School District News Update. Where Kids Come First.
The California Department of Education has released the 2012 Accountability Progress Reports for California public schools. According to the reports, students in Mt. Diablo Unified School District continue to show improved academic achievement indicated by the Academic Performance Index (API) and the Adequate Yearly Progress (AYP).
API
In the newly released Academic Performance Index (API) rankings, most Mt. Diablo schools are performing at increasingly higher levels. The goal of all California schools is to achieve an API score of 800. 34 of our 47 schools met school wide growth targets and 27 of them met all school wide and subgroup growth targets. 17 schools made double digit gains. Overall, the district API improved 7 points from 786 to 793.
All three elementary schools with the School Improvement Grant (SIG) made substantial growth: Bel Air improved 58 points, Rio Vista improved 26 points, and Shore Acres improved 61 points. Besides the SIG schools, we are especially proud of the following schools which made over 20 points of growth from their 2011 base API. El Monte improved 24 points from 800 to 824. Fair Oaks improved 31 points from 722 to 753. Mt. Diablo Elementary improved 29 points from 902 to 931. Pleasant Hill Elementary improved 25 points from 869 to 894. Valle Verde improved 21 points from 926 to 941. College Park High improved 29 points from 786 to 815. Concord High improved 41 points from 709 to 750.
District wide, 8 elementary schools scored above 900; 10 elementary schools, 5 middle schools, and 2 high schools scored between 800 and 900. Below is a list of all schools/programs and the API growth from 2011-2012: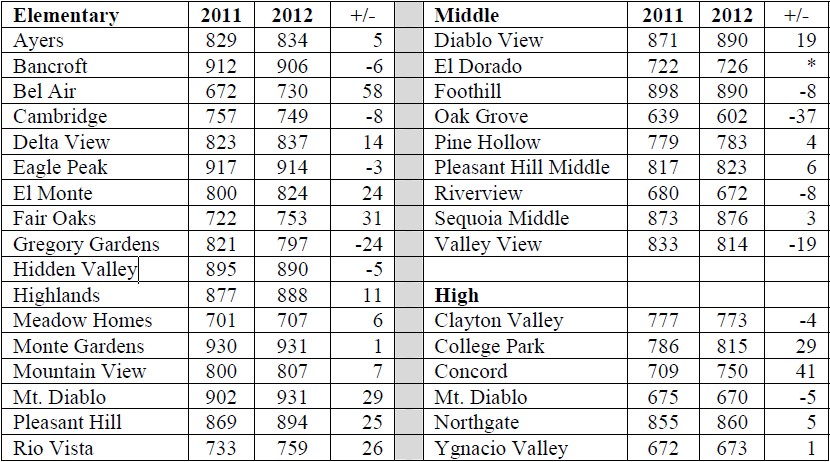 >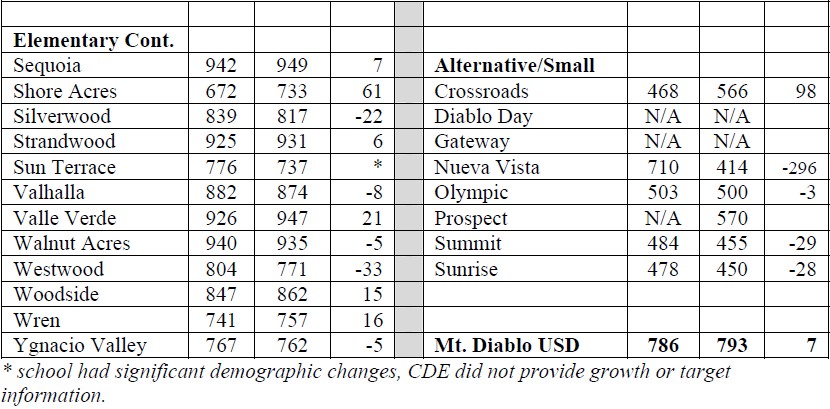 >
AYP
The California Department of Education also released the 2012 Federal Accountability Measures, Adequate Yearly Progress (AYP). AYP reports on percentage of students scoring proficient and above in English Language Arts (ELA) and Mathematics on the California Standards Test (CST).
For 2012, federal target in ELA is set at 78.0% and 78.2% in mathematics. District wide, 61.0% of our students met the ELA target and 61.1% met the mathematics target. These represent a gain in both ELA (58.7%) and mathematics (60.6%) from the previous year.
While not all of our schools met these federal targets, the following results show some continuing promising trends. At grades 2-5, 73% of our students scored proficient and above in Mathematics, surpassing state averages. Notably, 40% of 2nd graders, 49% of 3rd graders, 51% of 4th graders, and 44% of 5th graders scored advanced in mathematics. As a district, we are committed to high expectations and outcomes for all of our students with the goal of ensuring every MDUSD graduate will be college or career ready. Administrators and teachers work collaboratively analyzing student achievement data in order to implement teaching and learning strategies that support all students in mastering critical skills and knowledge embedded in state standards. While an achievement gap still exists for some of our subgroups, our schools are committed to providing necessary support to ensure that every student achieves at the highest level. We are proud of our teachers', support staff members', and administrators' commitment to improving student learning opportunities to ensure their future success. It is with the ongoing support of our School Board, parents and community that our schools and district continue to move in a positive direction.
For the complete California Progress Report, go to www.cde.ca.gov/ta/ac/ar/