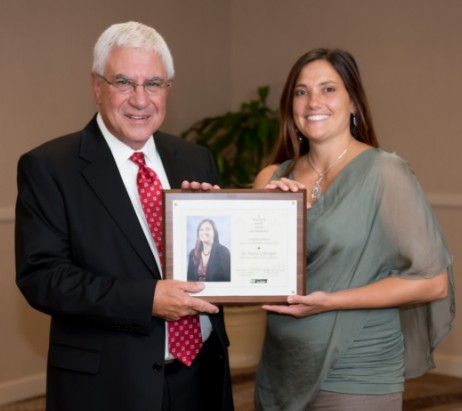 >
Concluding an energy-driven and exciting evening at the Concord Hilton, Contra Costa County Superintendent of Schools Joseph Ovick, Ed.D., announced the night-long anticipated naming of the county's next Teacher of the Year – it was Vicente Martinez High School 's Rona Zollinger, Ph.D. The 14-year instructor has been teaching her environmental studies academy (core subjects) course at Vicente Martinez High for the past 11 years.
After being named by the Martinez Unified School District as their district Teacher of the Year (TOY), this past March, Dr. Zollinger successfully proceeded with the other 19 eligible county candidates through a rigorous county-wide selection process, which included an application screening, classroom evaluation, interview, and speech presentation. Her fellow finalists were Mona Keeler, San Ramon Valley Unified SD, (Iron Horse Middle) and Terryl Miller, Moraga SD , (Los Perales Elementary).
More than 400 attendees were on hand for an evening that will certainly not be forgotten. The audience was made up of the TOYs' family members and friends, as well as numerous local educators, business partners, and officials. Kicking off the festivities was an incredible performance by the Bristow Middle School Choir ( Brentwood ), led by 2009 Contra Costa County Teacher of the Year Mark Morello. Dr. Ovick introduced the TOY class of 2012-2013 by sharing to the audience of his visit to each of the teachers' classrooms. This was followed by speeches of the three TOY finalists, their topic: "What I have learned from my students." After the three speeches were given, Dr. Zollinger's announcement was made.
Dr. Zollinger created the Environmental Studies Academy (ESA) in 2003, as an alternative learning experience for high school students in the Martinez Unified School District who are interested in schooling outside the box. The ESA was part of the environmental efforts of the Alhambra Creek Restoration Environmental Education Collaborative, which is a community-based network of partners that help organize and facilitate unique hands-on learning experiences for ESA students. In 2009, a large grant was received from Contra Costa Mental Health Services to expand the ESA program. At this point, the ESA became New Leaf: A Sustainable Living Collaborative. New Leaf is organized around the ecological principles of sustainable education. The curriculum utilizes transdiciplinary strategies and practices of project and place based learning, ecological service learning, and a rites of passage curriculum all done through participation in a small learning community.
Dr. Zollinger will now compete with all the other county representatives in the California State TOY competition. The California State Teachers of the Year are expected to be announced in late October.