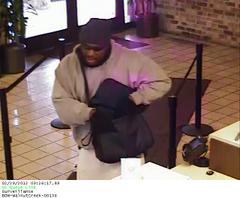 >
We're getting several reports of a bank robbery in Walnut Creek.
Police haven't released any details, but we're hearing the crime occurred in the area of N. California Blvd. at about 9:30am, and the suspect was a black male.
We'll post more information when it's available, including the exact location.
UPDATE: Witnesses are saying the bank that was robbed was the Bank of the West on N. California Boulevard near Pringle Avenue in downtown Walnut Creek.
UPDATE #2: The following information is from the Walnut Creek PD:
On February 29, 2012 at about 9:30 AM the below suspect entered Bank of the West on California Blvd. and demanded cash from the teller. The suspect was given an undisclosed amount of money from the teller and then fled the bank. He was last seen walking northbound on California Boulevard. No weapons were seen. Officers searched the area, but were unable to locate the subject.
Anyone with information is encouraged to call WCPD at 925-943-5844.