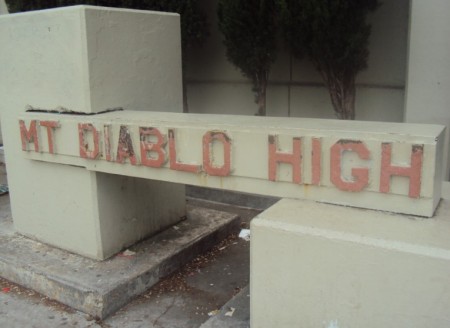 >
Throughout the past few weeks, we've received anonymous emails from teachers at Mount Diablo High School in Concord, saying they fear for their lives every single day, and they claim the school & the district has refused to discipline a handful of students on many occasions after teachers were verbally, and in some cases, physically abused.
One teacher wrote to us with the following comment….
I would never work in such a dangerous place if any districts were hiring. Jobs are hard to come by…so I don't have a choice. If you called and spoke to the principal, she would tell you there are no gangs here. Ask her why uniforms are used at other districts nearby, but not here.
I think the new principal is a force for change and change for the better.  She is pretty liberal, and I don't agree with some stuff, but she has been cleaning house, and some of the teachers who were part of the status quo are gone. IF you are not a great teacher, they are making you feel pretty unwelcome.
I think she just needs to be able to suspend these kids. Many have records, and some can be saved, not all though. The ones that endanger teachers and students should go.
MDUSD Superintendent Steven Lawrence says the problem students are dealt with, and abuse towards teachers is not tolerated….
We have asked schools to look at their disciplinary procedures because we know students can't learn if they are not in school. That being said, students who create an unsafe environment for other students and/or staff should be disciplined appropriately.
Other teachers say several police are called to the school on a daily basis to deal with fighting, and claim non-students are constantly loitering on campus.
QUESTION: Are you a staff member at MDHS? If so, do you feel safe at work?