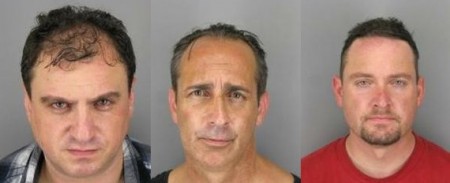 >
On Saturday at about 11:30PM, two Walnut Creek Police Officers were on foot patrol near LIFT Lounge at 1321 Locust Street. One officer noticed two subjects sitting in a parked car just south of the business. The officer contacted the two subjects and almost immediately observed a large amount of suspected narcotics in the vehicle, according to the Walnut Creek Police.
Police also say the driver of the car initially complied with the officer but then suddenly started the car and attempted to flee the parking lot. In doing so the suspect almost struck the officer while backing up. The suspect then tried to drive toward the officer.
WCPD released the following information….
Both officers pointed their firearms at the vehicle and gained compliance from the driver. Both suspects were taken into custody. A related vehicle was discovered nearby occupied by a third suspect.
Inside the two vehicles officers discovered a large amount of methamphetamine (with a street value of approximately $5000), a large amount of cash and smaller quantities of other narcotics. One of the suspects was also armed with a knife.
Arrested were:
Arthur Elbert, 36 years old, resident of San Francisco. In custody at Martinez County Jail on $400,000 bail.
Jerry Prather, 40 years old, resident of Brentwood. In custody at Martinez County Jail on $80,000 bail.
George Christensen, 49 years old, resident of Livermore. Arrested and released on $5000 bail.
Police also say they are investigating links between at least one suspect and a member of the LIFT security staff who was also contacted at the scene.