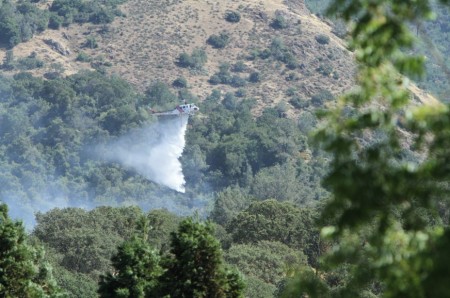 >
There's a fire burning near Mt. Diablo. CalFIRE, along with ConFIRE is on scene battling the blaze, which is said to be a vegetation fire.
Thanks to Cathy for the photo!
Stay tuned, we'll have more information soon….
UPDATE, 3:45pm: The vegetation fire is burning past Rialto Drive. Currently, it's a two-alarm blaze and a bulldozer & helicopter are both on scene.
Thanks to Varicella for the photo at the very top!
UPDATE, 4:01pm: First off, thanks to everybody for the tips on the fire, and also the photos, it's very much appreciated and helps me get the information out very fast to all the residents.
Here's the update. CalFIRE called in up to four 'copters and two bulldozers to battle this two-alarm blaze. They're slowly getting a handle on it, and as you probably can tell if you look in the direction of the fire, there's almost no smoke.
A very nice, lightning fast response by the fire crews helped to keep this blaze from causing any injuries or destroying any homes, good job!
UPDATE, 4:25pm: The fire is now almost completely out.
Thanks to "momof2g2b" for the photo at the very top!