The Board of Equalization announced today that new local sales tax rates take effect April 1, 2011.
Local sales tax increases approved in 14 cities in last November's election will result in tax rate increases in 13 cities across California.
The table below summarizes the voter-approved local sales and use tax rate increases in 14 California cities: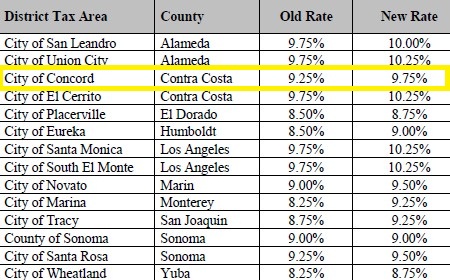 >
Concord new tax will increase the tax on retail taxable goods, but not groceries, utility bills, medications or mortgages. However, it will increase the tax on automobiles purchased in Concord, but only if you register the vehicle within the Concord city limits.
The tax will last for the next five years, and will help close the City of Concord's $5-million budget deficit.