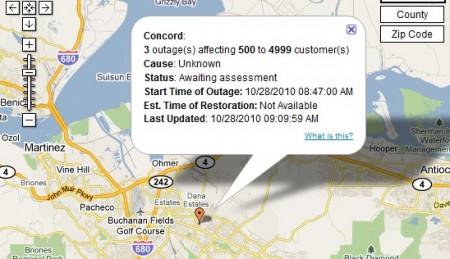 >
 About 3,000 people are without power right now near downtown Concord.
PG&E says they don't know what caused the three outages, but a witness, who happens to be a reader of CLAYCORD.com tells us a different story….
Hello, I was just on Clayton Road approx 20 mins ago and witnessed 3 blasts from what appeared to be manholes where pg&e was working on Clayton Rd. near Detroit, about a block down behind Petsmart and behind the laundry mat on Clayton & Fry Way.
The PG&E trucks present started driving between the locations quickly but didn't stop to check on the people that were standing approx 15-20ft away from the Petsmart blast at the bus stop (this was the only one I could see directly as I was standing near it when it happened. The smoke shot into the air about 20-30 ft from all 3 locations.
The Concord Police also issued the following reminder….
Due to a major power outage, many traffic lights in the downtown and surrounding areas are not functioning.
Please remember to stop at all non functioning traffic signals.
Police, Fire and necessary personnel are working to restore service.
According to PG&E, the power will be back on by 11:30am.
Thanks to everybody who emailed us information about the outage & the blasts!
UPDATE, 10am: The Concord Police have confirmed that an underground transformer has exploded. No injuries were reported.
UPDATE, 10:47am: Power is slowly coming back on, but we're hearing several locations near the blast might be without power for the rest of the morning & afternoon.