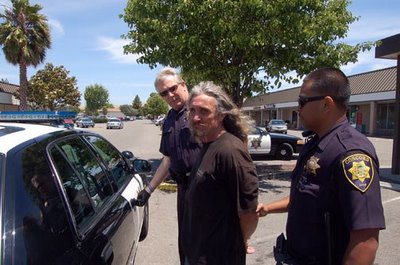 >
Ricky Fisher, one of the "13 drunkards of CLAYCORD" who hangs out in the area of Clayton Road & Thornwood Drive, has been convicted of stealing a bike from K-Mart, and will spend at least the next year-and-a-half behind bars.
Sgt. Bill Roche with the Concord Police Department tells us about the case….
Ricky was convicted after a jury trial for stealing a bicycle from K-Mart earlier in the year. Ricky was sentenced to three years in state prison; however, he will be eligible for half time credits which means he will at least have to serve 50% of his sentence.
The evidence in the case included surveillance video of Ricky walking out of the store with the bicycle and riding away on it.
Fisher has been arrested dozens of times for cirmes such as felony assault, theft, drunk in public etc.
This prosecution by the Contra Costa District Attorney's Office will likely save the Concord Police Department thousands of dollars over the next year-and-a-half, so great job to them for not letting him go with a slap on the wrist.
Also, thanks to the Concord Police Department, especially Sgt. Bill Roche, who is really working hard to try and clean up the Treat & Clayton Road area. If you haven't noticed, it's looking much better.