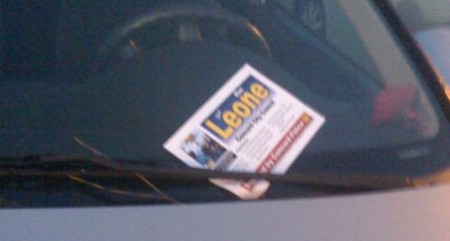 >
We don't mean to keep writing about Concord City Council candidate Ron Leone, really, but him and his campaign are giving us no choice.
Here's a note from a student at Concord High School….
I am a Senior at Concord High School. This past Thursday we had our annual Back To School Night. On many of the car windshields in the school parking lot, Ron Leone fliers had been placed. After checking with a couple of adults, I was told that it is infact illegal to have political fliers like these on a school campus.
Seriously, quit with the illegal passing out of flyers/campaign signs!
Didn't all the candidates sign a "fair campaign pledge" which said "I shall conduct my campaign for city office openly and fairly."?
Being "fair" also means playing by the rules!