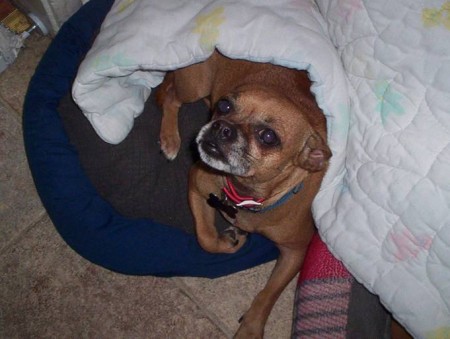 >
A couple in Pleasant Hill recently suffered a tragic loss after their dog was hit & killed by a vehicle.
Unfortunately, at the time of the accident, they didn't get a chance to say "thanks" to those of you out there who helped out after little "Peanut" was killed.
Here's their story….
Unfortunately our very special dog (he was more like one of our children) named Peanut was hit and killed. Our family is devastated. My husband was looking for him when he saw a car driving around the area…they had either hit him or witnessed the accident, either way the fact that they were looking for the dogs owner was very nice of them. They directed my husband to where a few cars pulled over and several people were standing around Peanut and trying to help.
My husband was in such shock and so sad that he didn't say a word to any of the people but did hear people saying how sorry they were. He scooped him up and carried him home silently…and had to report to his wife and 3 kids that he was dead. He was in too much shock and pain to say anything to all of these people but later felt as if he wished he did.
The reason I am writing is because we would like to say thank you to the people that were helping, the people that cared enough to stop, cared enough to drive around the neighborhood looking for the owners of this dog that was loved so dearly and the people that moved him out of the road and up onto the sidewalk. Thank you so much for caring and helping. I have seen so many animals left on the side of the road and it is just awful and heartbreaking. Thank you for renewing a little faith in humanity for our family.
RIP Peanut Lassiter, October 2002-September 27th 2010.