>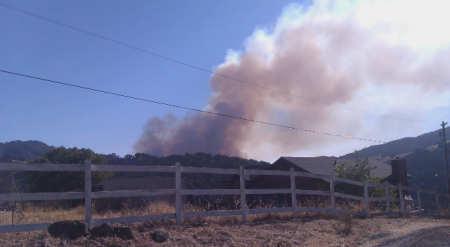 >
Firefighters are currently battling a 50-acre blaze in Mt. Diablo State Park, on Curry Canyon Road near Morgan Territory.
Thanks to "Cathy" for the picture!
Stay tuned for updates….
UPDATE, 5:24pm: The fire is now at 100-acres and growing.
Our friend "EMSchick" is near the scene, and gives us an update….
-At LEAST 2 dozen + sirens have gone out there so far.
-At least one fixed wing and one helicopter dumping water and retardant.
-Our power went out for 1 or 2 seconds about an hour ago, but came right back on. Sounds like it was started by a transformer blowing from what people are saying.
- We are packing up our valuables because it is so big and moving so fast.
Thanks! And we appreciate everyone's thoughts and prayers to protect our homes.
The blaze started at about 4:15 this afternoon.
UPDATE, 5:38pm: There is talk about closing down Morgan Territory Road, and also Mt. Diablo State Park. I would count on this happening very soon, because this blaze is growing.
UPDATE, 6:02pm: According to CalFIRE, the blaze is now at about 150-acres.
Thanks to "Pat" for the bottom picture!
UPDATE, 6:04pm: "EMSchick" fills us in with more information….
It is in a fairly rural area, but several houses are around. Where the fire is burning is very close to Curry Canyon trailer park, which has a lot of residents.
It appears to be heading up a hill towards the mountain now, away from the trailer park. We live just over the hill, as well as many more people.
If it keeps coming over the hill it will end up right where we are. Our area is mostly houses on about 5 acres. But there is so much fuel, once the fire gets going, it's very hard to stop.
Thanks so much for the updates! Good luck!
UPDATE, 8:30pm: CalFIRE just gave us an update. The fire is 5% contained and has currently burned about 200-acres.
UPDATE, 10pm: CalFIRE is now saying the fire is at 400-acres and 50% contained.
Thanks to "Radar" for the slideshow pictured above!
UPDATE, Wednesday morning, 7:29am: The fire is now 85% contained at 400 acres.