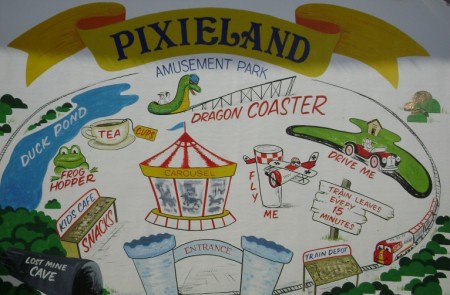 >
Looks like somebody has a bad case of the Mondays Tuesdays!
This afternoon, we put a story up about half-price tickets at Pixieland, along with Pixieland's logo. Well, apparently Pixieland didn't like the free advertising, and wrote the following email to CLAYCORD.com and also to "The Frugal Find", who, like CLAYCORD, had the story up on their blog.
Here's the email from Pixieland President Cindy Brumley….
Mr. Mayor,
You do not have permission to print the Pixieland photos or logo on your site. Please remove it immediately.
Cindy Brumley, President, Pixieland Amusement Park
2740 E. Olivera Road
Concord, CA 94519
office 925-676-9612
email cindy@pixieland.com
No joke, this is for real, we don't make these things up!
Sorry for trying to help, and I'm also sorry I just spent $50 at your establishment this past weekend.
And for those of you wondering, that is why we no longer have the story up on CLAYCORD.com.
UPDATE: I just received the following email from Pixieland President Cindy Brumley….
Mr. Mayor,
Thank you for your email. I am sorry that this has caused such an uproar. Certainly not my intention.
It can be very dangerous for a business to allow the use of it's photos and logo without knowlege and it is always appreciated to have a heads up.
As a writer and a business person I'm sure you can understand how I totally misunderstood this whole unfortunate event.
Your readers are very protective of your work and they certainly were aware that you were trying to do a good thing.
My apology to you for my misunderstanding your intentions.
Our 50% off deal is our way of giving back to the community, our way of trying to do a good thing. Hopefully, your readers will be forgiving of an honest mistake.
Thank you
Cindy Brumley
Apology accepted.
The email from Cindy came 7-minutes after the story was published on CLAYCORD.com.